Shopping Cart
Your Cart is Empty
There was an error with PayPal
Click here to try again
Thank you for your business!
You should be receiving an order confirmation from Paypal shortly.
Exit Shopping Cart
Scott's Painting Plus Inc.
"Your Satisfaction is My Reward!"
Scott's Painting Plus Blogs
Have you ever heard the saying, "Painting is all in the prep work?"
If you haven't, the saying is true.  Along with the prep, there are other things that you need to know if you want a professional looking paint job, but can't afford to hire a pro.
My first recommendation would be to use good products. You will be saving money by doing the work yourself, so you can spend money on quality products. I wouldn't go to a box store and spend $10 to $20 on a gallon of paint.  I always use Benjamin Moore Paints and Primers but Sherwin Williams has quality paints and primers also. Spending $30 a gallon at either one of these stores will get you a decent paint. If you are unsure which products you need, just ask the associate at your local store and they will help you.
Now to the set up of the room. Take all of  the pictures off of the wall, window coverings down, and move the big furniture to the middle of the room. Anything that you can move to a different area to give you more room to work will be helpful.
Next, remove all face plates from the outlets and light switches, putting the screws back in so you don't lose them, and put the face plates under a piece of furniture in the middle of the room. Same thing goes if there are heat registers in the ceiling or walls. Remove them, replacing the screws, and putting them under a piece of furniture. If the registers are already painted, you may want to replace them or repaint them.
Now you can use painter's plastic and cover all of the furniture. You can use blue tape to tape the plastic to the furniture. When that is complete, you can lay out drop cloths, making sure all of the floors are covered.
Now that the set up is complete, I am going to give you a step by step list of the prepping process. Some painters may do things in a different order but this is the way I do it:
1. With a flood light, walk around the room and look for nail pops. If you see any, hammer them back in and patch with joint compound. Depending on how deep the hole is, you may need to patch them a second time because joint compound shrinks as it dries. While you have the joint compound out, look for any imperfections on the ceiling, walls, and trim that need to be patched. When I finish patching the ceiling, I will turn a fan on to speed up the dry time.
2. After patching, you can go around with a piece of 120 grit sandpaper and sand all of the woodwork that is getting painted. As you finish each door, window, etc., make sure you dust it off with a duster (I just use an old paint brush as my duster), and caulk areas as needed. Make sure to use a caulk that is paintable.
3. While the patches and caulk are drying, you can go around and remove the hardware off of the trim (door knobs, brackets on windows, door stops, etc.).
4. If there are any stains, make sure you prime these areas. I carry a spray can of oil primer with me for these stains.
5. By now the patches should be ready to sand. Make sure you sand the patches flush with the surface and dust after sanding.
6. You are now ready to start priming the patches. Using a 9 inch roller, roll primer over all of your patches to avoid flashing.
7. When the primer is dry, start cutting in the ceiling with your ceiling paint. You can bring the ceiling paint down onto the wall a little bit so you should be able to cut in the ceiling rather quickly. Now you can roll the ceiling using a 9 inch roller (1/2 inch nap roller). If there is a window in the room, make sure the direction you roll is parallel to the window. Start in one corner and always keep a wet edge. When you finish the ceiling you can put a fan on again to speed up the drying time.
8. After the ceiling, I always paint the standing woodwork (windows, doors, etc.). As you paint the returns on the windows and doors, you can bring the trim paint onto the wall a little bit. I will paint all the trim except for the baseboards.
9. When you are finished the standing trim, you are ready to start painting the walls. Since most of the time, it will take 2 coats, I cut in and roll one wall at a time. This way by the time you are finished the first coat on the walls, the first wall is dry and ready to be painted again. I always cut in left to right and roll the wall right to left. When you are rolling, always keep a wet edge. Take your time and make sure that your cut in line where the ceiling meets the wall is straight and where the wall meets the returns of any door frames or window frames. When cutting in near the baseboards you can get a little wall paint on the baseboards.
10. After the 2nd coat is complete, you are almost finished. At this time I clean up the room. I will roll up my drop cloths and take all of my tools out of the room. Roll up the plastic and throw away. You have to be careful as there will be dust from sanding. Next I will either vacuum the rugs or Swiffer the hardwood floors. Shake out one drop and bring back in the room for the baseboards.
11. Make sure the baseboards are sanded with 120 grit sandpaper and dusted.  If there are rugs in the room, you should use masking(tan) or blue painter's tape to tape the rugs and make sure no paint gets on the rugs. Now you are ready to paint the baseboards.
12. You can put back all of the faceplates, the hardware, registers, etc. When tightening the screws, make sure to leave them all facing vertical. This is a minor detail that many homeowners have complimented me on. It leaves a uniformed look. Remember if the registers were painted, you may want to paint them with the new color. Just be sure to sand the registers and dust prior to painting.
13. You can now clean all of your brushes, roller pans, rollers, etc.
14. By the time you finish cleaning your tools, the baseboards should be dry, and you can hang the pictures back on the wall and move all of the furniture back.
When you aren't sure if a color will work you can always buy samples at any local paint store. When painting a sample on the wall, I try to paint it right next to a door frame so you can see the wall color next to the trim. If you are still undecided, I recommend calling a designer to help you pick your colors.
Also, when you buy the paint, let the employee of the paint store know which room you are painting so you can get the right sheen of paint. Bathrooms and Kitchens need to painted with a product rated for water.
There is no right or wrong order of painting a room but this is the way that works for me. To finish a job, take a step back and admire the work you did is always a good feeling.

Let me start off by telling you how I got into the painting business. 
My father has been painting (for himself) since the 1980's and when I was a youngster I used to accompany him on some of his jobs.
At first, I would only be allowed to sand the woodwork and help set up or clean up the jobsites. I didn't realize it then, but looking back, I'm glad my father had me master these tasks first. You have to start somewhere, right?
Fast forward to 1997 when I graduated High School. This is when I started working for my dad full time. He did mostly faux finishes so I gradually worked my way up to patching, caulking, painting woodwork, cutting in the basecoats, and rolling the basecoats and the ceilings. The years I spent working with him I learned the tricks of the trade and to never cut corners. He taught me how to work with your customers, not just for them.
So in 2009 I decided to start Scott's Painting Plus. My wife was pregnant with my first child (Scott Jr.) and I wanted to provide quality work at reasonable rates, something that is hard to come by in this economy.
The first year of business was a little slow but that is to be expected. It was nice my dad was always a phone call away if I had a question that I needed to ask. I went into business figuring it would take at least 3 years to build up a clientele to where I would start seeing repeat clients.
My second year of business was 25% better than the first year, and my 3rd year was 25% better than the second year. As a owner/operator type business it is hard to keep those percentages up year after year but I strive for excellence so that is what I am aiming for.
I focus on building lasting relationships with the people that I work with. The way that I do this is by providing superior quality, using the best products, having knowledge of the industry and different coatings, combined with focusing on customer service. I will do everything possible to exceed the clients expectations, make the project run smoothly, and keep the job within the budget.
I take a lot of pride in what I do and it shows in the finished product. For that reason, I have a lot of repeat customers and referral based business.
My specialties include but aren't limited to: interior painting, exterior painting, all painting related prep work, powerwashing, deck staining, deck cleaning, interior staining, popcorn ceiling removal, wallpaper removal, minor wood repair, drywall repair, plaster repair, cabinet refinishing, and more.
Here is some advice- You should always get 3 quotes for any job. If you receive a quote, and it is very low compared to the other two, there is probably a reason for it. Either the "painter" isn't insured, isn't paying taxes, or he is going to slop paint on your walls. Look to see how detailed the estimates are. Is the "painter" just emailing you with a number? That's not very professional... Ask for some photos of past jobs. Ask for proof of insurance. Ask for references. Ask for a business card. You can usually weed out the hacks pretty quickly by asking these questions. The professionals will proudly give you anything that you ask for and so will Scott's Painting Plus.
I would like to start off by saying that if you are going to tackle painting your own kitchen cabinets, it is NOT as easy as it seems. It also takes a little bit longer than the DIY shows make it seem.
Hiring a professional painter to refinish your cabinets will still save you a lot of money if you are thinking of replacing your cabinets.
Still with me? Ok. Let's get started. First you will need to make a list of all the materials you will need for the job.
1. Paint (oil-which is more durable but dries slow/latex-not as durable but dries quicker)(semi gloss, gloss, or if you are going to use Benjamin Moore Oil, I recommend Satin Impervo)
2. Primer (I would recommend using a bonding primer for good adhesion)
3. Krudkutter or TSP or any degreaser
4. Rags, Sponges
5. 2 buckets
6. Sandpaper (220 grit, 120 grit)
7. Tack cloth
8. Paint Brush (I use a 2 inch flat brush but use what you prefer)
9. 7 inch roller pan
10. 4 inch roller cage
11. Pack of 4 (4" roller covers- 1/4" nap)
12. Painters plastic (to cover counter)
13. 2x4's to lay the doors on when drying
14. Dropcloths
Now Let's Get To Work
Step 1: cover your counter with painter's plastic and cover the floor with dropcloths.
Step 2: remove the hardware from all of the cabinets, marking each one, if necessary with tape. I like to use a left to right and top and bottom system. For example, T-1 would be the top left cabinet. After you remove all of the hardware, and it's marked, I recommend that you keep it in a ziplock bag until you are finished painting.
Step 3: remove the doors and hinges. Again marking everything if necessary.
Step 4: with your TSP or degreaser thoroughly clean all areas of the cabinet doors and boxes that are going to be painted with a sponge. With a damp rag, I like to wipe down the areas as soon as I degreased them.
Step 5: After your cabinets have dried, look for any imperfections. If you see any this is the time to use wood putty and fill the areas in. When the putty has dried, use the 120 grit sandpaper and sand down the areas going with the grain.
Step 6: Sanding produces dust and you have to get rid of it. I always carry a little pocket duster with me but if you have a dustbuster this will work just fine. Vacuum all loose dust and then use your tack cloth to get all of the fine dust off of all cabinets.
Step 7: Now you are ready to start priming. I always start with the outside of the doors. Start on the inside of the panel and work your way out. When you finish the first side of all of the doors, you can start on the boxes as the doors are drying. It is very important to let the primer dry completely.
Step 8: After you have finished priming all areas to be painted, grab the 220 grit sandpaper and sand all areas to make sure there are no brush strokes. When finished, grab the dustbuster or duster and vacuum the dust and once again use the tack cloth for the remaining dust.
Step 9: Apply 2nd coat of primer and repeat Step 8.
Step 10: Now you are finally ready for the topcoat. Just like you did with the primer, start on the doors and apply the first coat on the outside of the doors. When you finish you can move to the cabinet boxes. If you are using an oil topcoat it will take at least 24 hours to dry in between coats. For this reason, I like using an acrylic latex topcoat which will try in 4 to 6 hours. After the side of the doors is dry flip over and paint the other side. You will have to apply 2 coats of the topcoat but when you are finished you will be proud of the job you did and the money you saved.
If you ever find yourself painting a room with your significant other or your buddy, here are some words you can use to make it seem like you have been painting for years.
Flashing- this occurs when you patch an area of a wall or ceiling and don't prime it before topcoating. If you look down the wall when you are finished painting you will be able to see the patch flashing through.
"If we don't want to see flashing later, let's prime that patch."
Tooth- after sanding a wall, ceiling, door, etc. it will give the surface tooth. Meaning it will give the surface more grab for the paint that is going to be applied.
"I am going to sand this window frame and give it some tooth."
DropOut- this is when you are setting up a room for painting and you are laying the drop cloths down.
"The first thing we need to do is dropout."
Curtains- this happens when you are applying too much pressure on one side of a roller during application.
"I can see those curtains from over here. I think I should start rolling the wall."
So the next time you're painting with someone try these words out and see the reaction that you get. I will post some more shortly.
                                               OIL BASED PAINTS
  As we move into a new era of water based, acrylic, and hybrid(waterborne alkyd technology) paints, the oil based paints of yesteryear are not being used as often. In fact, some places don't sell oil based paints anymore for environmental reasons.
  The hybrid paints give the finish of an oil based paint but cleans up with soap and water opposed to paint thinner or mineral spirits.
 Oil based paints, used mostly on woodwork, leaves a better and more durable finish then a latex(water based)paint and will leave a smoother finish if painted correctly. If you are going to paint your woodwork, and the existing trim is an oil based paint, I recommend using an oil based paint again. The reasons being if you wanted to switch to a latex, you would need to prime all woodwork first with either a latex or oil based primer. Then proceed to apply the latex paint. I feel that an oil based finish coat is more durable, and with prepping the existing trim thoroughly and properly, you will get a better result.
 A negative about using an oil based product is that it will usually take 24 hours to dry between coats. Another thing you will have to watch for if you are using a (white) oil based paint, is that over time it will tend to turn a yellowish color.
Here is a photo of a job I just completed where I painted all of the woodwork. The existing woodwork was oil based and turning a yellow color. Sometimes it is hard to notice so I took a picture to show the difference after painting the wainscoting and leaving the door unpainted. The paint I used was Benjamin Moore's Satin Impervo White Oil Based Paint.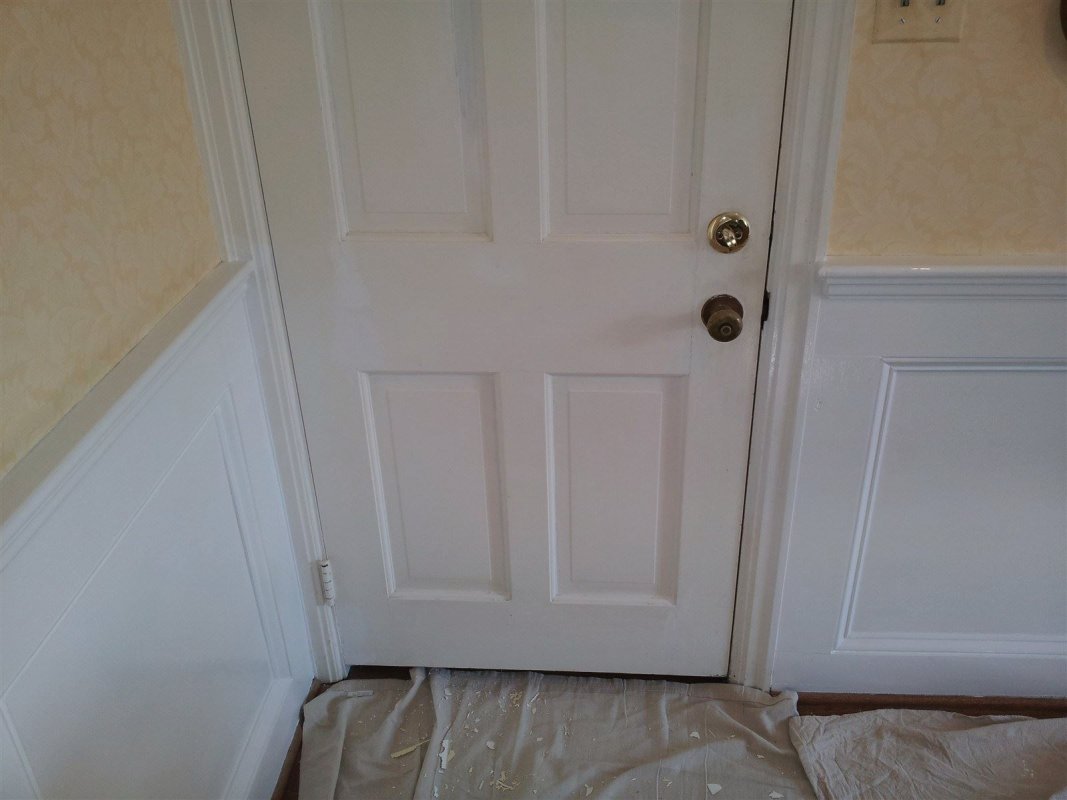 Here are a few after photos of the completed job.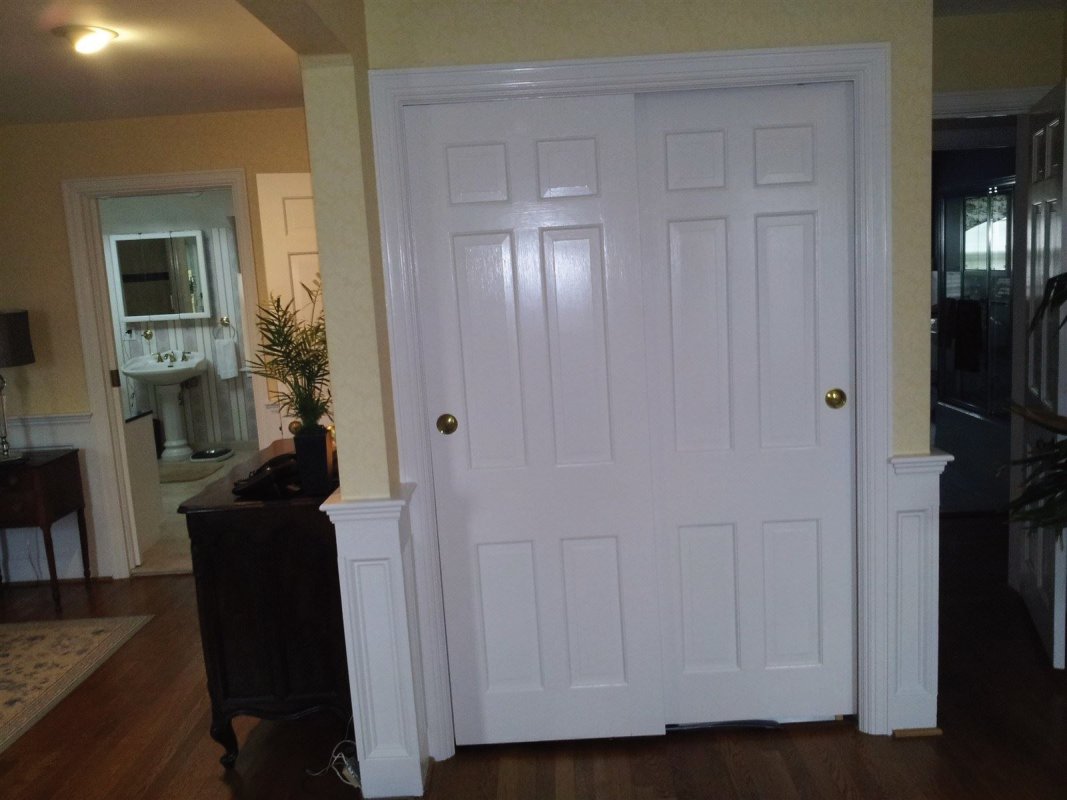 As you can see there is a smooth finish on these bifold doors.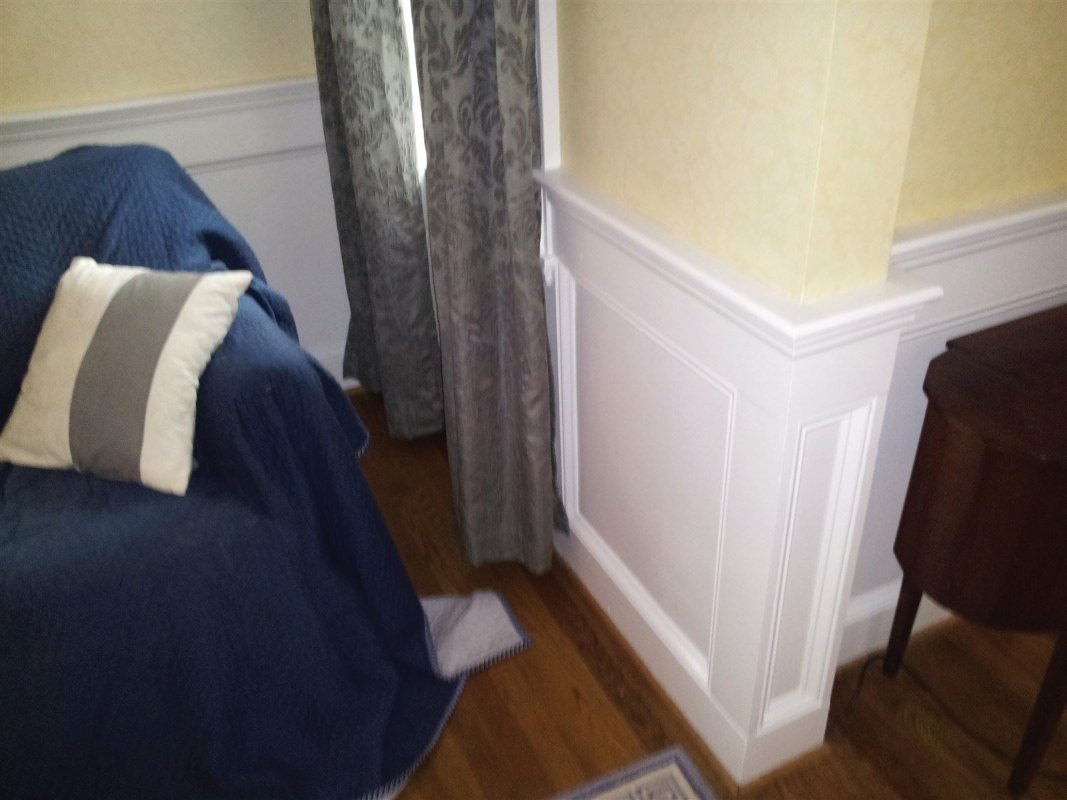 Scott's Painting Plus is experienced in all facets of painting. I recommend calling a professional if you have a job that involves oil based paints.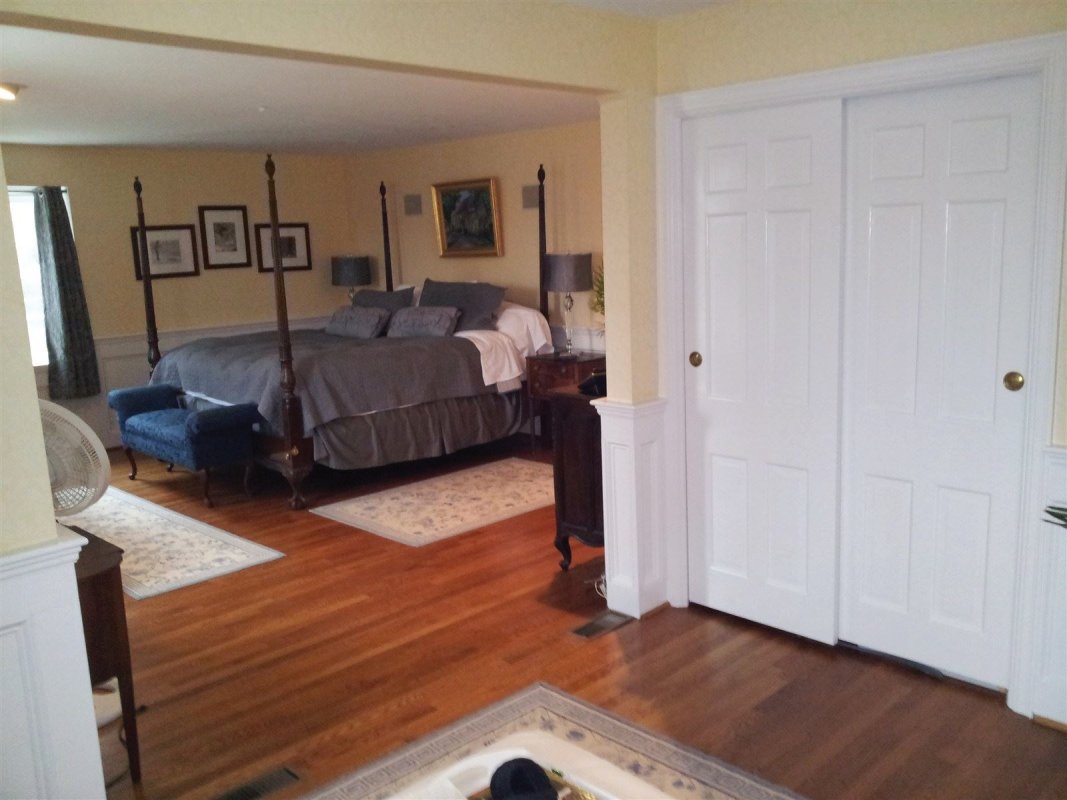 Call Scott at (610)931-6707 or email at
Thank you.
I always recommend hiring a painting company for all of your painting needs but if you aren't at a point where you are able to hire a painter, please read my other blogs that show tips on doing your own painting.
These are a few tips for a Do-It-Yourselfer who wants to tackle their own painting project. I always recommend hiring a professional Painting Contractor if you want professional results. On the other hand, I realize that some homeowners like doing the work themselves or simply can't afford it. This list will help you with your painting project.
1. How can you tell if your trim(woodwork/doors, baseboards, etc.) was painted with an oil based paint or a water based(latex) paint?
This is very important if you are planning on repainting your trim and don't know what the previous Painting Contractor used for paint. If it was painted with an oil based paint, I would repaint with an oil based paint. If it was painted with a latex paint, I would stick with a latex. If it was painted with an oil and you would like to switch to a latex paint, I recommend applying a coat of oil based primer before applying the latex paint.
Now how do you determine what it was painted with?
Most Painting Contractors can tell just by looking at it. Another way would be to use a piece of 120 grit sandpaper and sand a small section of the woodwork. After sanding, wipe your hand over the section. If there is dust on your hand than it is an oil based paint. No dust=latex paint.
2. While we are on the subject of painting trim, no matter what was used to paint the trim before (oil or latex), you must sand all trim prior to repainting. I use a piece of 120 grit sandpaper and I keep a duster with me to dust as I sand. For a duster you can use an old paint brush, a dust brush, or even a damp rag.
Sanding prior to painting will help smooth the trim but more importantly it will give the new paint better adhesion to the existing paint and a longer lasting paint job.
3. What sheens of paint should you use in which room(s) when doing an interior painting job?
The answer to this question is mostly a matter of taste. As the saying goes, "Beauty is in the Eye of the Beholder." I always give a client some suggestions but ultimately the client is the one that will be living in the home and should make the final decision.
With that being said, I can tell you what sheens I use for most rooms.
I will use a flat paint on ceilings. 90% of the time I will use a semi gloss on all trim. For walls in kitchens, bathrooms, laundry rooms (any room where there is moisture), etc. I will use an eggshell paint for the fact that it is washable and won't be damaged by the water. For walls in Living rooms, Dining rooms, Bedrooms, etc. I use flats, satins, eggshells, or low lustres. As I said earlier, since you will be the one looking at the walls, this would be a decision for you to make. You can research each sheen and pick one that is most suitable for the room.
4. Another tip for interior painting would be to remove all faceplates, nails, screws, hardware, etc. before applying any paint. Painting around these
areas with a brush you could potentially get paint on them. Also when you remove everything off of the wall you can use a roller instead of a brush around these areas. It will be a more uniform job in the end.
This is a photo of an Interior Painting job I did in Wayne, Pa.
This is another photo of the Interior Painting in Wayne.
This is another angle of the same Interior Painting job.
 I would like to start off by saying this isn't how every Painting Contractor paints a room. This is the system that I use and the way I recommend using.
 I will be explaining how to set up for painting, the prep work involved, the painting, and the cleanup. This order is the same if you are painting a bedroom, a bathroom, a living room, or any other room in your home.
Step #1
Remove all pictures, window treatments/hardware, electrical face plates, etc. off of the walls. Make sure you mark the holes that will need to be filled and the ones that will be reused. I usually find a place in another room for these items.
Step #2
Arrange the furniture in the room so that there is enough room for a ladder between the wall and the furniture. You will also need to make sure you can reach the ceiling fan or the light in the center of the ceiling if there is one.
Step #3
Use painter's plastic and cover all of the furniture. You can use blue painter's tape to secure the plastic.
Step #4
Lay drop cloths down throughout the room. It is important to make sure that every area is covered.
Step #5
Go around the room and fill all holes in the ceiling and walls with joint compound(there are many different kinds of filler that can be used but I like the ready mixed blue lid joint compound). At this time I will put a fan on and direct it at the patches to speed up the drying time. After the patches are dry, check the patches to make sure that they are at least flush with the surface. Joint compound shrinks so you may have to patch some areas twice.
Step #6
With a piece of 120 grit sandpaper, go around and sand all of the patches so that they are flush to the surface and smooth. After sanding, I will dust the patches while I am there. Also while you have the sandpaper out, go around and lightly sand all of the woodwork in the room and dust afterwards.
Step #7
Walk around the room and caulk any cracks that weren't patched. These are usually where the woodwork meets the ceiling or the wall.
Step #8
Now you are ready to start painting. Pour all but about 1 inch of a gallon of the ceiling paint into a roller pan. With your roller, roll over all of the ceiling patches with the ceiling paint. While this is drying, I will go around and cut in the ceiling. Don't worry about getting the ceiling paint onto the wall but you will have to watch you don't put it on so thick that there are paint drips. Once the patches are dry, you are ready to start rolling. Start in one corner and work in an area of about 6' x 6'. Make sure you always keep a wet edge and work towards the closest wall. When the first coat is dry, repeat the cutting in and rolling part.
Step #9
This is the step that some painters will start painting the walls but I believe you will get a better finished product if you start painting the standing trim. By standing trim I mean all of the woodwork except the baseboards. The reason for painting this next is because of the returns on the door and window frames. The return is the thin area where the frame meets the wall. It is easier to paint a straight line with the wall paint into the return than trying to paint a straight line on the return after the wall is painted. When painting the standing trim don't worry about getting the paint onto the wall but again you have to be careful of paint drips or runs. After the first coat is dry then you can paint the second coat.
Step #10
Now you are ready to start painting the walls. Pour the wall paint into a roller pan leaving about an inch in the gallon pot. Roll over the patches and while they are drying you can start cutting in the walls. I cut in 1 wall  and then roll it. I go to the next wall and cut it in and then roll it. This way, if you have a fan to speed up the drying time, you can fan the wall that was just painted as you are painting the next wall. By the time you get back to where you started you can just keep going and apply the 2nd coat.
Step #11
Before I paint the baseboards, I roll up all of the drop cloths and the plastic. Then I will vacuum the room. Before putting the furniture back, I will apply the 1st coat to the baseboards. While the first coat is drying, I will hang all pictures, window treatments, put back all face plates, take the drop cloths outside and shake them out, and clean up the rest of the room. This will give the first coat time to dry. When the first coat is dry then you can apply the 2nd coat. When finished you can move all furniture back to its original spot, vacuum one last time, and you will be done.
Like I said, there are different ways to paint a room, this is the system that works for me and essentially works for my clients.
/